We supply a variety of mobile, static and wall mounted, hot & cold industrial pressure washers. Our team of engineers build and install machines to fit the customers specifications.
Contract
As well as providing machinery, we can also offer a special contract package which includes a supply of Traffic Film remover (TFR) as well as maintenance. Since the law requires all trucks over 3.5 tonnes to be steam cleaned before their yearly Ministry of Transportation inspections. This allows customers to have quality facilities to maintain the upkeep of their fleet.
Agents
We are also established agents for many of the major pressure cleaning brands, such as Karcher. This allows us to supply each brands range to customers at competitive prices compared to RRP. Below are links to a few of the ranges we can provide. Please browse and contact us for further details.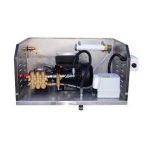 Parts & Repairs
We can repair and service many pressure washers by one of our mechanics either on site or in our workshop. We are able to supply and fit replacement parts for many types of machines. Contact us for more details.